The full version of this article was first published at: How Does Facebook Remarketing Help My Business?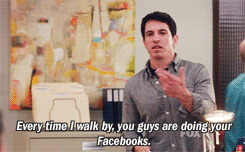 No Comments Facebook Remarketing Keeps You on Your Customers' Minds! Were you ever on Facebook and suddenly an ad appears from the website you had just visited? This is known as Facebook remarketing. It's a phenomenal tool that allows you and other business owners to advertise to specific people who have Facebook accounts. You may ask, "How does Facebook remarketing help my business"? Facebook remarketing works by following your customers' activity on the web and connecting them to your unique ad or special offer. When a visitor goes to your website, they are "tagged" by placing a small snippet of code (Facebook pixel) on your website. This is the way you are able to track them. Then, when that same visitor is scrolling through their Facebook feed, your ad will appear to remind them of your product or the great promotion you have to offer. (Photo source: Giphy.com) Facebook Remarketing Builds Your Website Traffic Facebook remarketing builds your website traffic by targeting specific custom audiences you want to attract. Once you've placed the Facebook code on all of your website pages, you can set up specific audiences with filters according to the pages they've visited. If you sell books but want to target only people interested in travel books, you can set up a custom audience that shows ads to only people who have visited your pages with the keyword term "travel books" in the URL. Why you Need Facebook Remarketing The power of Facebook can't be ignored. Facebook gets 22…
Read More: How Does Facebook Remarketing Help My Business?