This
post
was originally published on
this site
By: Madeleine Bedard, Digital Marketing Intern
Did you know that approximately 57 percent of consumers are more likely to buy from companies they follow on social media? Social media is a great way to grow your business's following, while simultaneously creating brand recognition and customer loyalty.
Why not leverage the strong relationships you already have with your community to digitally engage followers and build a more robust donor pipeline? If you're stuck in a rut and unsure how to expand your business's social media presence, you've come to the right place! Here are some simple tips and tricks to get started:
1) SET FORTH REALISTIC GOALS
Before you start posting to social media, take time to draft ambitious and realistic goals that function as your guide. Posting without goals in mind can result in random, annoying, or inconsistent posts that can drive away your target customers. Nobody wants that!
When setting goals, consider:
Growing awareness of your brand, business, or organization

Increasing customer engagement

Generating leads
After establishing a set of concrete, time-bound, and realistic marketing goals, create a plan around executing:
Who will lead the charge on publishing?

How often will you post?

What time of day will you post?

What content will you pre-write?

What images will correspond with that content?

What other businesses will you partner with to share your content?
Most importantly, determine what metrics matter most to you and how you will measure progress. You can track the number of new followers, the number of likes a post gets, or the number of times a post is shared by your target audience. All of this planning and measuring helps you decide what best resonates with your customers so you can continue replicating that messaging.
2) DETERMINE WHICH PLATFORMS ARE BEST TO CONNECT WITH YOUR TARGET CUSTOMERS
Did you know that 86 percent of small businesses have a Facebook account? This is a great way to dip your toes into the world of social media, since Facebook is still the fastest-growing social media platform for ALL age groups. While having a Facebook profile helps to put your organization on the radar, there are other platforms you need to consider utilizing to expand your following.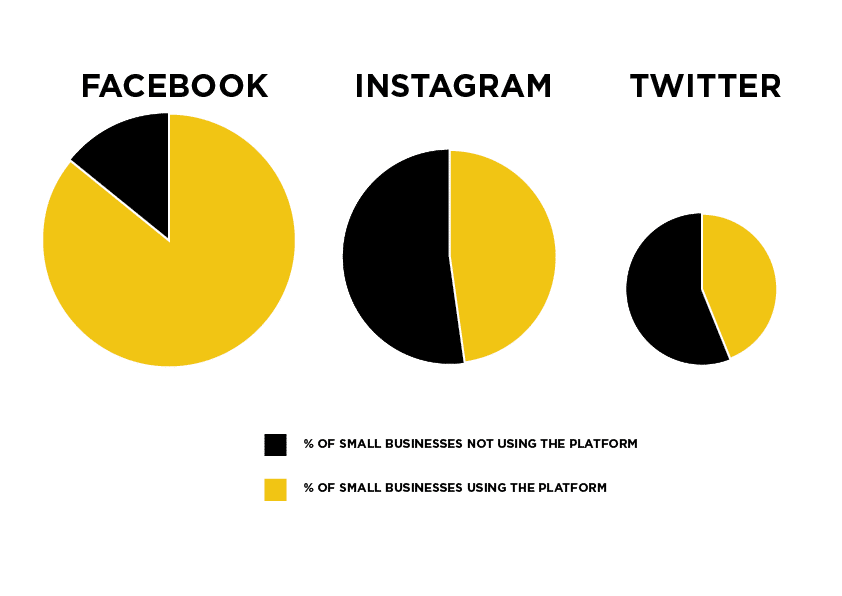 Only 48 percent of small businesses have Instagram accounts, and only 44 percent have Twitter profiles. Did you know that some businesses even use Snapchat? While this is notoriously tricky to master effectively, 71 percent of Gen Z uses the Snapchat app 6+ times a day! Be mindful of your target audience and make sure to use the same platforms as them.
3) CREATE ENGAGING AND INTENTIONAL CONTENT
While time-consuming, content creation can be the most rewarding and exciting part of developing your social media strategy. Just 52 percent of small businesses post on social media daily, and some post less frequently than once a month! Having a lot of strong, informative content lets social media users know that your brand is active and engaged. However, there is also a fine line between engaging and annoying. To find the balance between annoying and engaged, do research on the highest engagement times and plan your posts intentionally.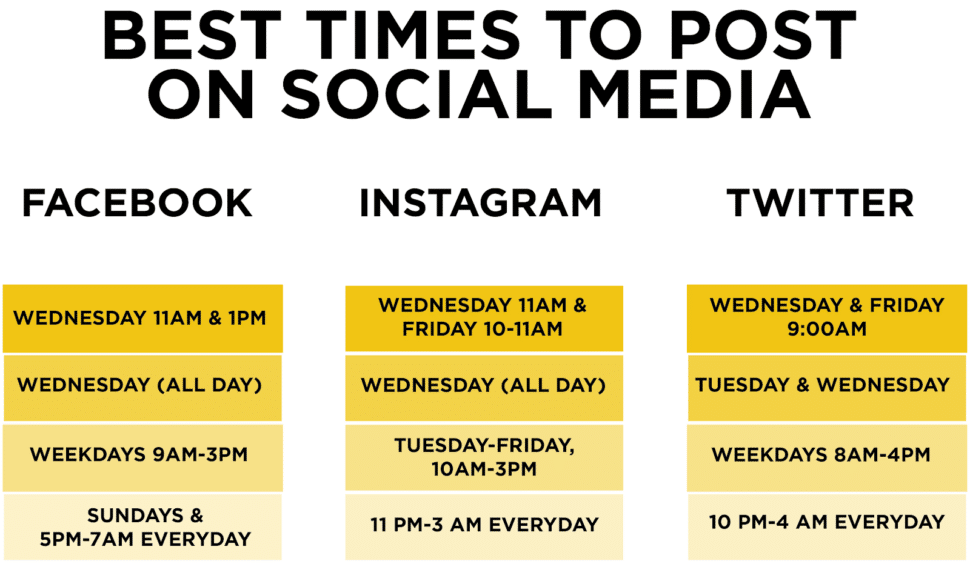 Instagram sees the highest amount of use on Wednesdays at 11AM and Friday from 10-11 AM, with Wednesdays being the overall best time to post. The least amount of engagement occurs from 11:00PM-3:00AM every day.
Facebook has a similar engagement schedule. The best times to post are Wednesday at 11:00AM and Friday at 1:00 PM. Wednesday is the best day to post overall, although any week day from 9:00AM-3:00PM is a safe bet. Early mornings and evenings see the least amount of engagement.
On Twitter, aim to post on Wednesday at 9:00AM or Friday at 9:00AM. Tuesdays and Wednesdays are generally the best days to post, while Saturday sees the lowest engagement.
While timing is important, the content of your posts is arguably even more important. If you need inspiration, here are some ideas:
Advertise products, events, and promotions.

Share new content from your website, blog, or newsletters. Link to your other sites to increase traffic!

Share instructional and informative videos. Videos can help explain your organization's mission, work, and goals.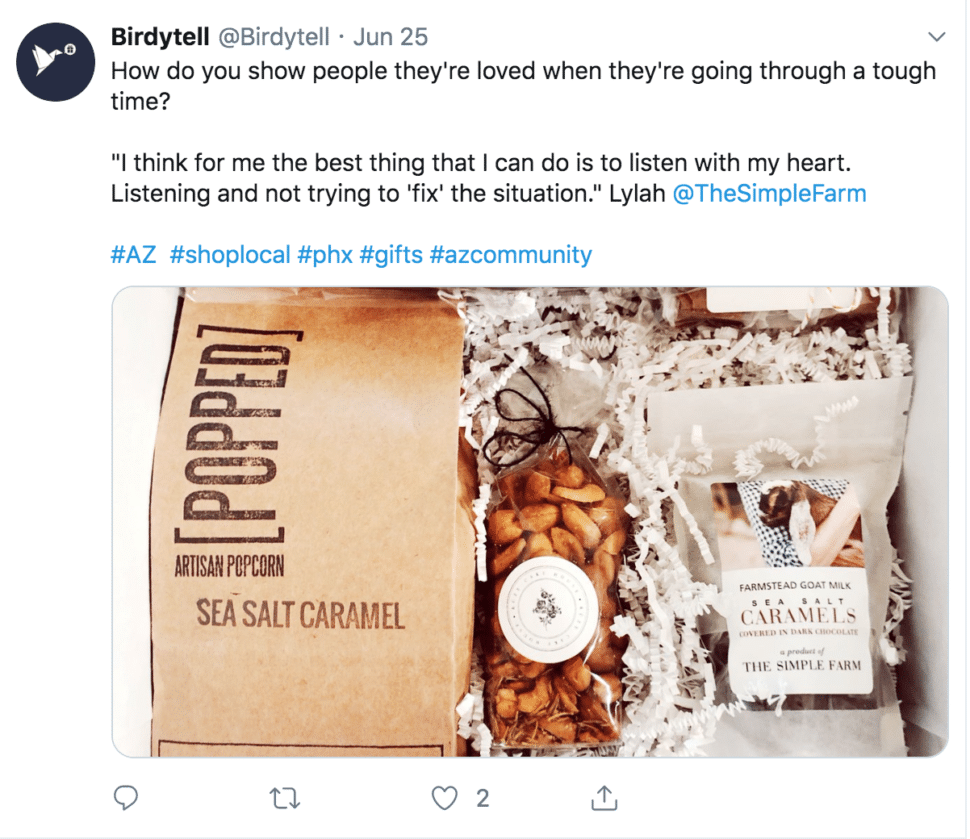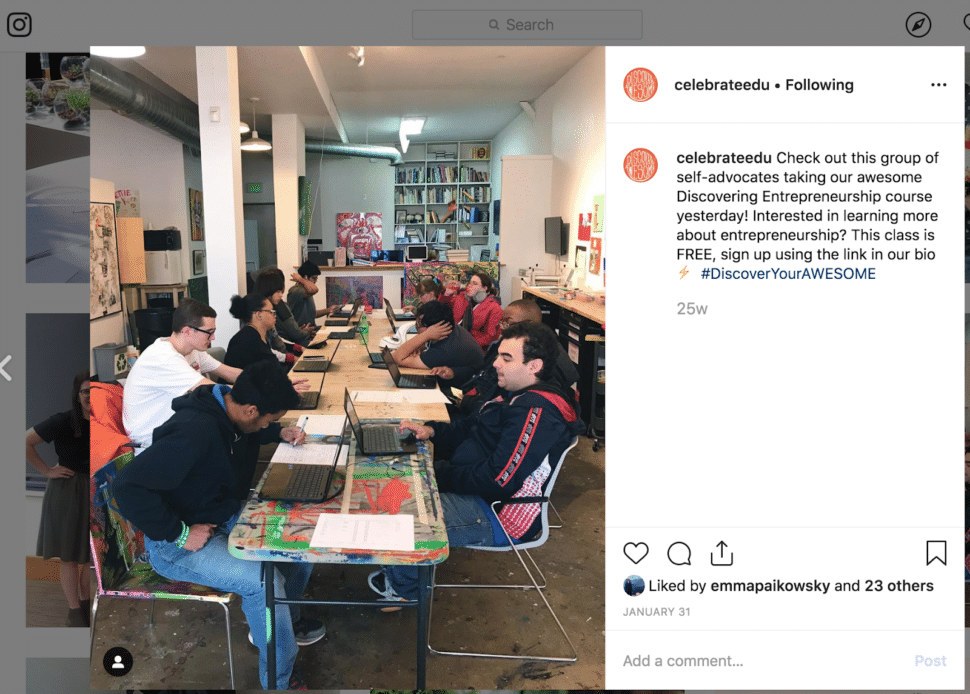 You should also be aware of the different types of posts available to you. Traditional posts appear on your profile's timeline. These posts stay there until you choose to take them down. These posts should be made often, but more thoughtfully. When creating a traditional post, consider how the post will look on your timeline, and consider your brand's aesthetic.
Ephemeral posts, like Snapchat or Instagram stories, only appear for a short time and are useful for promoting day-of events or promotions. If something interesting or funny is happening in your workplace, consider creating an ephemeral post! These posts can be interactive and are a great way to showcase your team's culture. For example, Instagram stories have a polling option, where followers can voice their opinions. This input can be used to engage customers and provide valuable input to actively iterate on for your business's decisions.
Your organization's following will increase with regular posting and community engagement. Once your following grows, sales and engagement will follow! More than 1 in 3 Internet users say they go to social networks when looking for more information about a small business. This is because businesses and organizations are likely to offer promotions, information about their product, direct communication, and entertainment through their social media accounts. Social media accounts are now essential for startups, small businesses, and nonprofits. Develop a marketing plan and start posting! Trust SEED SPOT to help build your business's branding and marketing plan by registering for an upcoming program near you.
The post How to Use Social Media to Grow Your Business's Network appeared first on SEED SPOT.