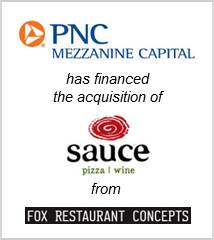 Greene Holcomb Fisher ("GHF") is pleased to announce the successful acquisition of Sauce Pizza & Wine ("Sauce"), a fast-casual Italian brand owned by Phoenix-based Fox Restaurant Concepts LLC ("FRC"), by a group led by local restaurateur Scott Kilpatrick, local investor Todd Belfer and PNC Mezzanine Capital ("PNC").  Kilpatrick, the former co-founder of RA Sushi, will look to expand the concept in Arizona and beyond.  GHF served as the exclusive financial advisor to Kilpatrick, Belfer and PNC.  The terms of the deal were not disclosed.
Sauce Pizza & Wine opened its first location in 2003 and will open its tenth Arizona location in Central Phoenix later this year.  Sauce is one of the most recognized fast-casual Italian concepts in Arizona and appeals to a broad base of customers with fresh and flavorful fare, served in a casual and hip setting.  The menu has a large variety of options, including gourmet pizzas, pastas, salads and affordably priced wines.
"Sauce Pizza & Wine is an exceptionally strong brand, and we see significant opportunity for growth.  As we move forward, we are committed to making the quality of food and service our No. 1 priority.  Most importantly, we are dedicated to the long-term success of Sauce Pizza & Wine," said Kilpatrick.  Doug Brosius, a Partner at PNC added, "We are fortunate to have had the opportunity to partner with Scott, Todd and the rest of the outstanding Sauce team.  FRC built a great concept, and we are excited to facilitate the next phase of growth for this dynamic brand."
"We were thrilled to represent Scott, Todd and PNC in this great transaction.  FRC built Sauce into a great Arizona brand, and we were fortunate to be able to facilitate a successful transaction for all parties," stated Matt Greeson, a GHF Managing Director.  "This is a great transaction for GHF's Consumer Team and a great transaction for the Phoenix community."
About PNC Mezzanine Capital
PNC Mezzanine Capital is focused on financing buyouts, recapitalizations and consolidation strategies for companies in a wide range of industries.  Since 1989, PNC Mezzanine Capital has been a stable, thoughtful partner for sponsor groups, entrepreneurs and management teams.  PNC's approach has been to underwrite the long-term business strategy of its portfolio companies with the flexibility to respond constructively to the opportunities and challenges of a changing business environment.  To date, PNC Mezzanine Capital has made 113 investments in 67 companies, in support of 188 transactions.  PNC seeks to invest $10 million to $45 million in subordinated debt and equity in companies with strong management teams, proven business models and stable cash flows with a clear avenue for growth.  For more information, visit www.pncmezzanine.com.
About Fox Restaurants Concepts
Fox Restaurant Concepts is a growing restaurant group encompassing 14 unique concepts spanning eight states with more than 4,000 employees.  Each restaurant strives to provide guests with a remarkable dining experience that will leave a lasting impression.  Varying from contemporary upscale to fast casual and walkup retail, Fox Restaurant Concepts is dedicated to creating flavorful, fresh and innovative cuisine, and offers gracious service in stylish and comfortable settings.  For more information, visit www.foxrc.com.
About Greene Holcomb Fisher
Greene Holcomb Fisher, with offices in Minneapolis, Phoenix, Seattle and Atlanta, is an investment banking firm that specializes in mergers and acquisitions, private placements and financial advisory services for the middle market.  At Greene Holcomb Fisher, experience from nationally prominent investment banks, New York Stock Exchange-listed companies and leading law firms is blended with senior-level attention and entrepreneurial ingenuity to deliver creative services to high quality companies.  Greene Holcomb Fisher investment bankers specialize in the Consumer, Food & Agribusiness, Healthcare, Industrial Products & Services, Business & Education Services, Technology and Energy & Infrastructure sectors.  Greene Holcomb Fisher provides global reach through Clairfield International.  For more information, please visit www.ghf.net and www.clairfield.com.
Source: Greene Holcomb Fisher