The full version of this article was first published at: How Do Business Listings Help My Small Business?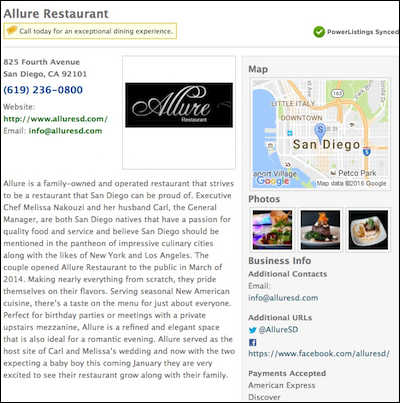 No Comments What is listing management? Listing management is a software tool that is designed to scan the vast number of directories and websites on the Internet to ensure your business listings are correct. Did you know? There are over 1600 apps, maps, search engines, directories, and social media networks that your customers use to search for your business? Many of these are familiar to you such as Google, Bing, Yahoo, Yelp, Facebook and others that are probably not so recognizable such as 2findlocal, AroundMe, and Citysearch. Your business will surely come up on most of these directories and you will want your information detail or business listings, such as name, phone number, and address to be accurate and complete. Just as you wouldn't think of having a negative first impression for your place of business such as a locked front door or no onsite parking, you would want your online presence to be as positive as possible.  Here is an example for a restaurant's proper business listing on the "Find It Fast" directory: 53% of small businesses have online business listings with missing or wrong addresses or phone numbers! If your information is incorrect, out dated, incomplete, or duplicated, your customers and potential customers could be confused or turned off about your business. If you are still on the fence about using listing management, the following are 7 compelling reasons for adding it to your marketing plan: Your customers search for local businesses – you will be seen as a big player…
Read More: How Do Business Listings Help My Small Business?