This
post
was originally published on
this site
By: Bianca Buliga, Digital Marketing Manager
And just like that, we're one step closer to our culminating National Demo Day on Tuesday, May 14th at Tempe Center for the Arts (RSVP here)! This past Wednesday, student teams from across the United States pitched their innovative business ventures to a panel of judges from organizations like APS, Coplex, the StartupAZ Foundation, and the Arizona State Board for Charter Schools. Hosted at Galvanize in the Warehouse District, Wednesday's event celebrated the 32 teams that were invited to pitch at Semi-Finals out of nearly 50 total applicants.
The SEED SPOT Schools team and judging panel was blown away by each team's professionalism, preparation, and commitment to solving pressing social issues. But unfortunately, not all 32 teams will be moving on to pitch at Demo Day. The final scores are in – these are the 12 teams who are being invited to showcase their business ventures on May 14th:
Fastlane Campaign:

For young adults between 18 – 45 who do not vote or participate in their local government, Fastlane Campaign is the application that informs users how to vote and provides updates on upcoming meetings in their area.

Fire Liner:

For property owners who have their property at risk of burning, Fire Liner is the fire suppression system that builds a foam deposit around your property. In doing so, it saves your land or house from nearby wildfires.

Forward Thinking Plastics: Forward Thinking Plastics

helps solve the issue of an over abundance of plastic that is ruining the environment by providing people with products that they need made entirely out of recycled plastic. This will reduce the amount of plastic in landfills and reduce the overall new plastic each year.

JEMM:

For the concerned parent, the vigilant dean, or the school systems who are looking to monitor off-limit areas, JEMM is the product that will ensure that no room goes unsurveyed. This will create an environment where JEMM promotes a mindset of deterrence rather than fear.

Oil Ease:

For restaurants and families who cook their own food and are looking for an environmentally friendly way to dispose of their leftover cooking grease, Oil-Ease is the solution that provides a way to dispose of grease that does not harm the environment.

Own Your Ozone:

For homeowners who care about their health, O.Y.O is the convenient solution that detects harmful indoor air pollutants and keeps families safe.

Protect Them:

For young women ages 12-25 who have been victimized by sex trafficking, ProtectThem is the RFID tracking device that will provide those victims with tools to escape with help from law enforcement.

Safety Next:

For teachers, faculty, and administration who have difficulty locating students in the event of a school emergency, Safety Next is the stress reducer that uses Raspberry Pi's to gather knowledge of students' locations.

Secure Facility Robotics (SFR):

For public school students and administration who are at the mercy of an active threat situation due to a lack of information, Secure Facility Robotics, S.F.R., is the active surveillance that schools need in order to respond to an active threat situation in the most effective way possible.

Social Bud: For kids and adults who struggle with social skills, SocialBud is the website/app that helps improve social skills. In doing so, it prepares more people to live better lives.

Swap Party:

For teens, young adults, or other clothing enthusiasts who buy from the Fast Fashion industry, Swap Party is the business that relies on a take-in, take-out system for used apparel ensuring affordable, sustainable, and ethical consumption among customers, and in the process brings awareness to the negative effects of Fast Fashion.

Youth Mobile:

For unaccompanied youth living in the Pima County Area who don't have quicker access to resources, Youth Mobile is the pathway that provides a cell phone services at a low cost.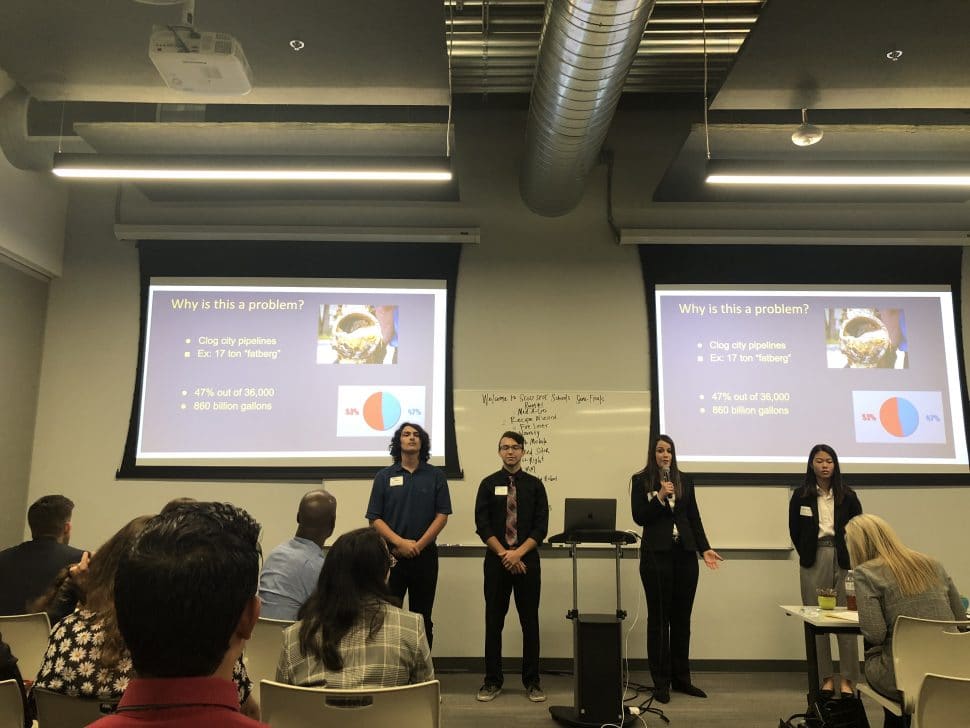 A huge SEED SPOT thank you to our judges for taking the time to score pitches, our teachers for encouraging and nurturing each team's entrepreneurial ambitions, and to Galvanize Phoenix for being incredible hosts for our Semi-Finals event! We couldn't have pulled off this process without our tribe of SEED SPOT supporters. Now, let's get ready to award the Finalists with some in-kind and cash prizes at our May 14th Demo Day at Tempe Center for the Arts (it's not too late to snag your ticket here). See you soon!
---
Related articles from SEED SPOT:
>>"32 Student Teams Selected to Pitch at SEED SPOT Schools Semi-Finals"
>>"10 Impact-Driven Entrepreneurs Pitch for $20,000 in Cash Prizes"
>>"Meet the 8 Ventures in Our Spring 2019 PHX Impact Accelerator"
The post 12 Student Teams Invited to Pitch at Schools National Demo Day appeared first on SEED SPOT.