The full version of this article was first published at: Véndeme Tu Sueño (Pitch Me Your Dream) Wins Emmy Award!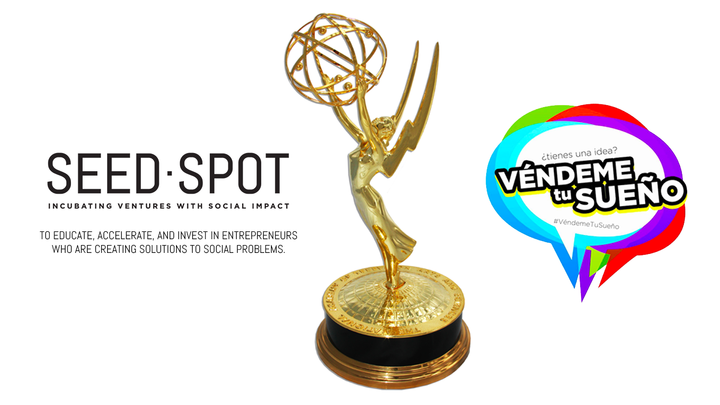 SEED SPOT & UNIVISION Partnership to Support Latino Entrepreneurs Brings Home an Emmy! SEED SPOT, in collaboration with Univision Arizona's Contigo entrepreneurship program launched "Véndeme tu Sueño" with a shared vision to support and accelerate the ideas and dreams of Latino entrepreneurs. "Véndeme tu Sueño" won the overall Excellence Emmy on Saturday, October 8th from the Rocky Mountain Southwest Chapter of the National Academy of Television Arts and Science (NATAS). Broadcast as a web series on Univision's network, the program follows the journey of the entrepreneurs building their businesses and pursuing their dreams. Véndeme tu Sueño, translated to mean "Pitch Me Your Dream," has galvanized hundreds of entrepreneurs, mentors, and investors around the shared belief that change in our community is possible through innovation. Through this partnership, Latino entrepreneurs have received access to education, mentorship, capital, advisement, and public pitch opportunities to tackle issues in healthcare, education, and economic prosperity. "Everything we do at Univision Arizona is for our community and we're humbled by the opportunity to serve them each and every day," said Roberto Yáñez, vice president and general manager of Univision Arizona. "Thank you to them for making us the most trusted news team in Arizona." Courtney Klein, SEED SPOT's co-founder and CEO said "The vision that SEED SPOT and Univision share is all about empowering people with dreams to create change in our community. This Emmy® embodies everything it means to be human, to have a dream and to receive the support of a community to accelerate new ideas." Each…
Read More: Véndeme Tu Sueño (Pitch Me Your Dream) Wins Emmy Award!